Moving to Vancouver I had visions of endless winter kayaking arising from the incessant rain that is apparently supposed to douse this city endlessly. This winter that was not the case - sunny weather and cold temperatures put a halt to all kayaking activity for virtually the whole winter. Luckily there are some other high quality winter activities to enjoy around these parts, and between those and figuring out a new place to live I was kept plenty busy with other things.
However, when we had our first big rain two weeks ago, you can imagine the feeding frenzy that ensued once it became clear that rivers were going to run. Phone calls were made, thousands of dollars were spent on texting and people thought about quitting work to get a day on the water (luckily this didn't actually happen and all parties involved are still gainfully employed) and we went boating.
Things started with my first voyage down the Seymour in North Van at a respectable flow, but the next day more and more rain made this one go from good to high to too high overnight, so plans were laid to move out the Fraser Valley to try and run the Norrish Creek, a great low-stress river just an hour east of the city - we were successfull in having an amazing day on the water.
Smooth rocks, bedrock rapids and tight canyons make the Norrish a fun day on the water - we found medium-low flows that were quickly dropping out during our run down. I would recommend hitting this one as quickly as you can after rain - it's a great river to practice skills and run some rapids that you can't walk easily in a relatively innocous environment, but low water would not be enjoyable because of a shallow paddle out at the end.
The only event of note that day was the appearance of wood in the second big pinch on the river - while there is normally one log stuck in there that you can paddle around, a small but horribly placed tree made the rapid that takes you through the pinch and into a calm pool fully unrunnable. This rapid is supposedly unportagable, which we quickly proved to be false. A little team work and a seal launch from a small ledge got us around no problem.
You can find all the beta you need to run the Norrish by this link. Also, click on over to the Hell Or High Water site for some recent updates on everything you need to know to go blaze down the Petawawa in a few weeks.
And of course, some photos of the run, and a sneak peak of what's up next..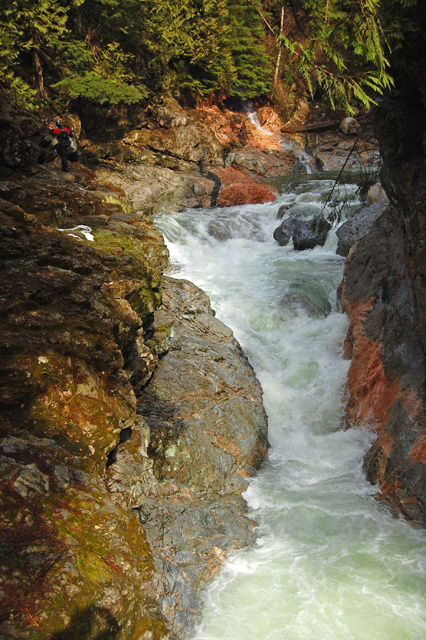 Scouting an excellent bedrock rapid at the start of the Norrish.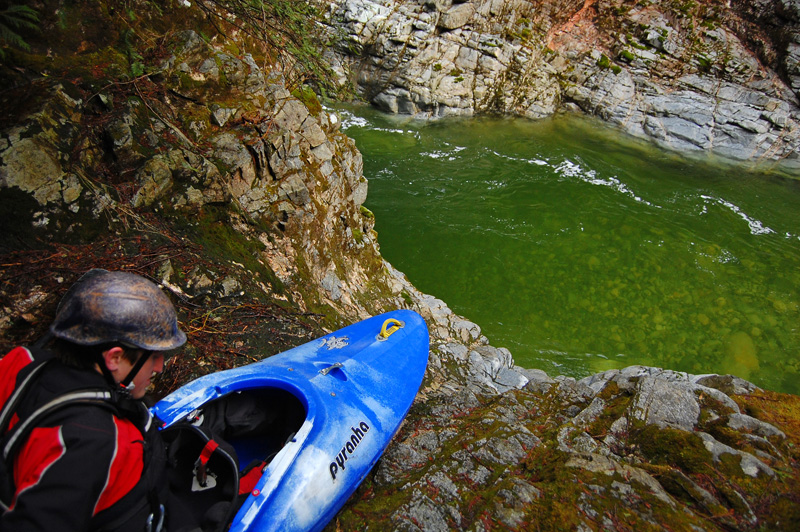 Matt Kompass getting ready to launch into the clear green water of the Norrish Creek.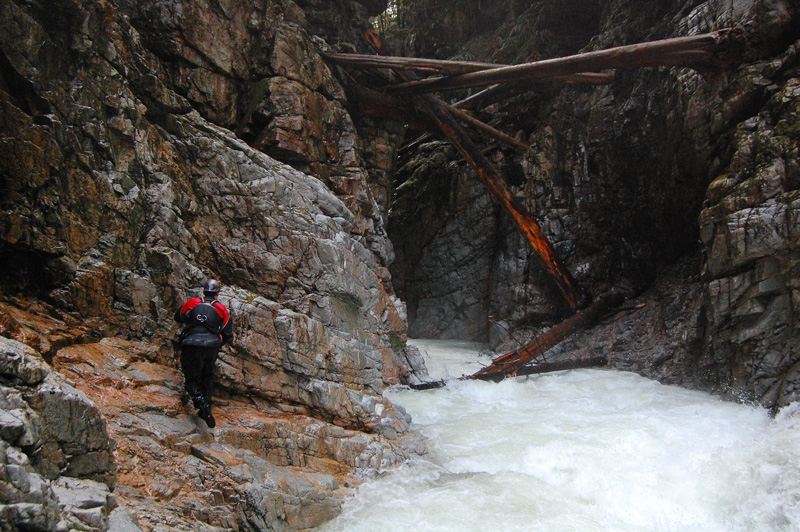 Encountering a problem deep in the Norrish Creek valley.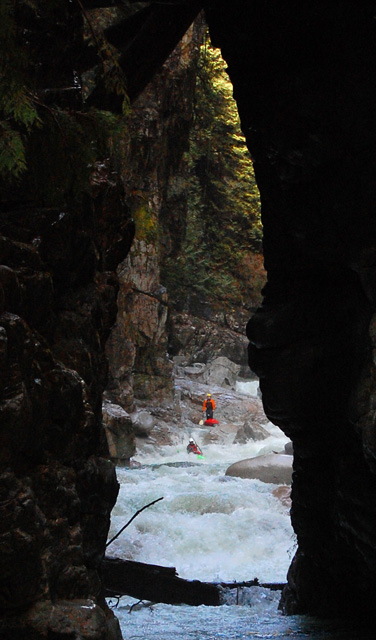 Once we got around the log jam in the last picture, these two guys caught up to us and had an equally unpleasant time scrambling around the logs - it wasn't the end of the world but it was tedious.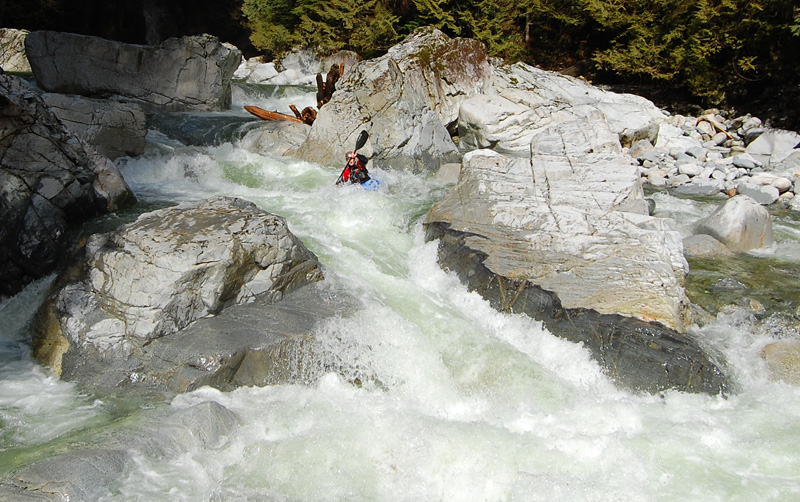 Norrish Creek goes out with a bang - the boulder squeeze rapid means you're getting close to the end.
So what's next from the annals of LiquidLore kayaking? Take a look at this picture and get set for some more BC. The classic shot of the Lower Mile of the Ashlu. Stay tuned for an update and beta on this early (and late) season classic.
Straight as an arrow and steep to boot, this is the Lower Mile of the Ashlu - believe it or not, there's water in there somewhere.