As of late the bulk of our content has been coming out of SW BC - some of the sections in our guidebook are starting to get a little dusty and needed some attention. Turns out lots of people thought the same thing.
What started the whole process was an email out of Quebec pointing out that the access situation to the 7 Chutes outside of Quebec City had changed and the guide needed to be changed too. The 7 Chutes is a semi park and huck waterfall run that shares an access point with an easier section downstream. Poaching the falls could screw it up for the whole gang, so don't go poach the 7 Chutes. By chance I also got a submission from Gabriel Cote-Valiquette with a great photo of the last drops on the 7 Chutes. Check it out.
Rafael Boudreau-Simard fires it up.
There's some fresh beta for the Neilson posted up too. There's tons of info around about this one - it's one of my all time favorite rivers. One of my most memorable days of boating ever was with Bob Butler and Philip Kompass in early May 2008 starting out on the Blanche and heading over to the Neilson in the afternoon to ride the freight train that is the Neilson at super high water. You'd be hard pressed to find a river anywhere that is as good as this one was that day.
Here's Bob running the double drop one week later at lower water.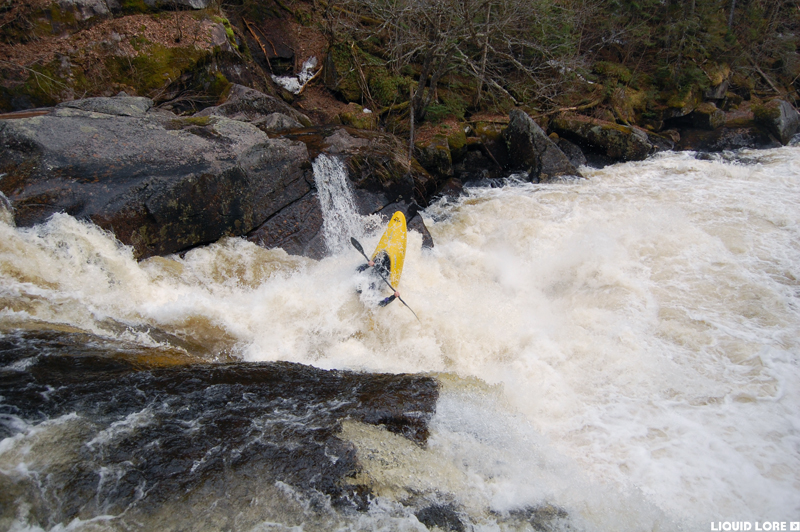 Impressive ender - it worked out fine.
Finally, Five2Nine have been producing video guides to compliment the photos and words in the guidebook, mostly for rivers on the east side. Check this one out of the 7 Sisters on the Rouge.
Liquid Lore - 7 Sisters Video Guide from Five 2 Nine Productions on Vimeo.