Rewind back to June of 2008 - it seems like a long time ago now. Anyhow, maybe you'll remember some mention of a kayaking trip to California that my friend Bob and I decided to take part in - it was a long time coming, and we put in a good effort to get on as many rivers as we could in the 5 or 6 weeks that we had off that summer. The kayaking there is pretty good.
It all started in the previous fall when we wanted to take a chunk of time and try and get out there to sample to goods - well, to make a long story short it all came together. In the end we had our fair share of difficulties (nothing major though) and in the end everything worked out perfectly. Probably the biggest thing we had to deal with was the fact that we were 2 guys with one vehicle, and we thought that shuttles, at least at the start of the trip until we met some people, might end up being tricky - we weren't altogether incorrect.
After leaving Calgary (that's where we picked up our trusty van) and driving for many hours to California - Bob had scarlet fever so I drove the whole way - we decided to try and run the Bald Rock Canyon on the Middle Feather as a first river - partly because it's on the way further south, and partly because it seemed like a reasonable warm-up run.
Bald Rock Canyon ended up being a great section of whitewater, but there's one problem with it, particularly when you're there solo - the shuttle. From the obvious take out parking spot it's one hour or more to the put in bridge far back into the woods at Milsap Bar. This place is a USFS campground, and when we were in there, there was no shortage of interesting people camping out. The river itself isn't too long, maybe 6 or 7 miles, but the river ends in a reservoir, and the end of the river is some 13 or 14 miles from the spot where your car will be parked. Needless to say, the best option is to have a shuttle driver and get a boat to come pick you up at the river mouth. Not having either of these options immediately available, Bob and I headed to the put in without a plan.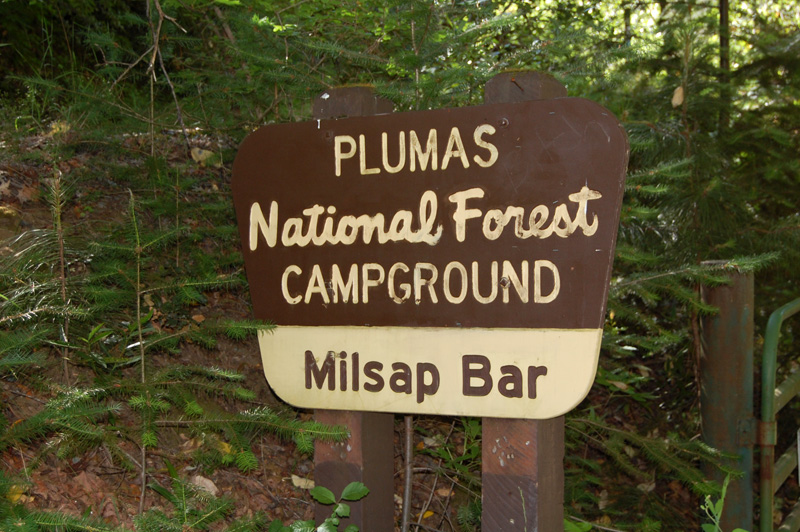 You know you've made it to Milsap Bar when you see this sign at the end of a long dirt road. A lot of interesting people come to hang out here.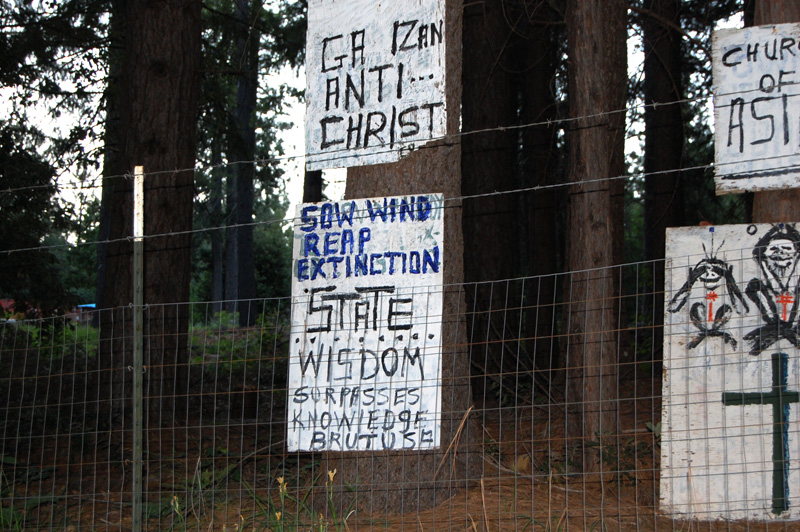 Like the guy who runs the Church of Asia who lives on the road down to Milsap Bar... The propaganda is thick in his front yard.
We made it to Milsap Bar and set up an nice camp site that night, pondering what to do about the shuttle having finally realized its magnitude. In the morning, after a little deliberation we finally decided that shuttle be damned we were going to run the river and move on to other places - we were going to pack our overnight stuff, paddle the river and make as much headway across the lake as we could and then try and hitch/walk back to the van at Milsap Bar the next day. Not the best plan, but at least it was a plan.
Just as we were about the start boating, we saw two trucks roll in to the campsite with boats in the back - we were in luck, maybe we'd be able to bum a shuttle with them! Interestingly, these guys (great guys by the way) were going to run the last day of the three day upper Middle Feather trip - the Devil's Canyon. With an offer of a shuttle and the hint they'd hit Bald Rock the next day, we went with them.
A one day Devil's Canyon trip is do-able, but the shuttle is long on some crappy dirt roads, and the hike down to the river is quite long. The whitewater ended up being fun, nice class IV - the water was definitely low on this stretch, which was expected as the 3 day Middle Feather trip is normally run at higher water then Bald Rock Canyon. As always though, it was good to see a new section and meet some new people.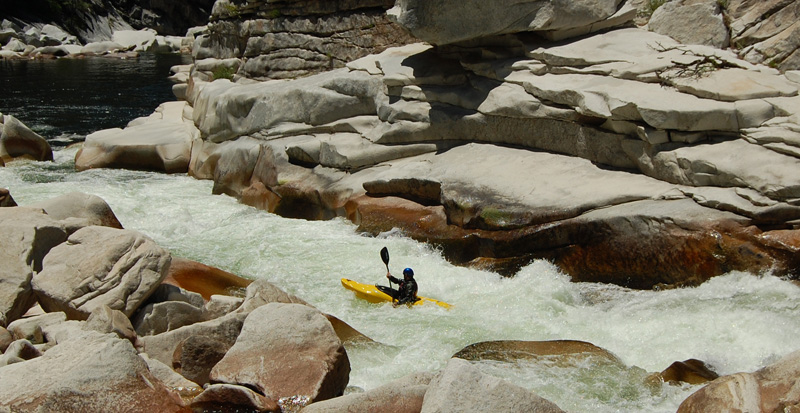 A random rapid, low water Devil's Canyon - there's granite up there too, just not as much as in the Bald Rock Canyon.
When the day ended and the shuttle was dealt with we loaded up and all drove back out to Oroville to get some grub and rally for the next day. In the morning we all met up - the guys we paddled with were Eric, Kurt and Danny, all local guys - Eric was kind enough to find both a shuttle driver and someone to pick us up with a boat from the marina - so we headed back to Milsap Bar for Bald Rock Canyon
Bald Rock ended up being just the warm up river we were looking for in California - awesome granite rapids, a sweet canyon and a good crew that knew the river really well. Check out the beta page for all the info you need, and a selection of shots below to make you want to check it out...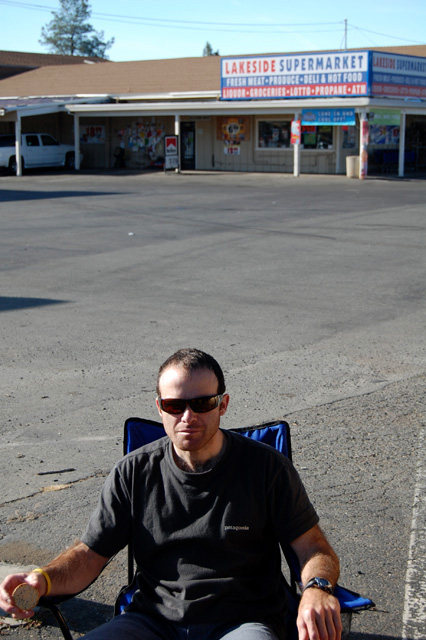 Bob was obviously thrilled to be eating breakfast in the parking lot of an Oroville gas station.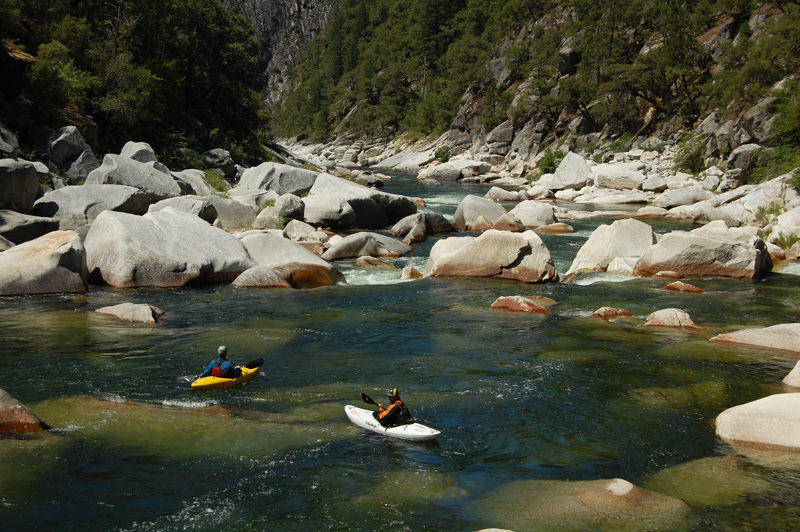 Bald Rock Canyon has some amazing clear water and white granite.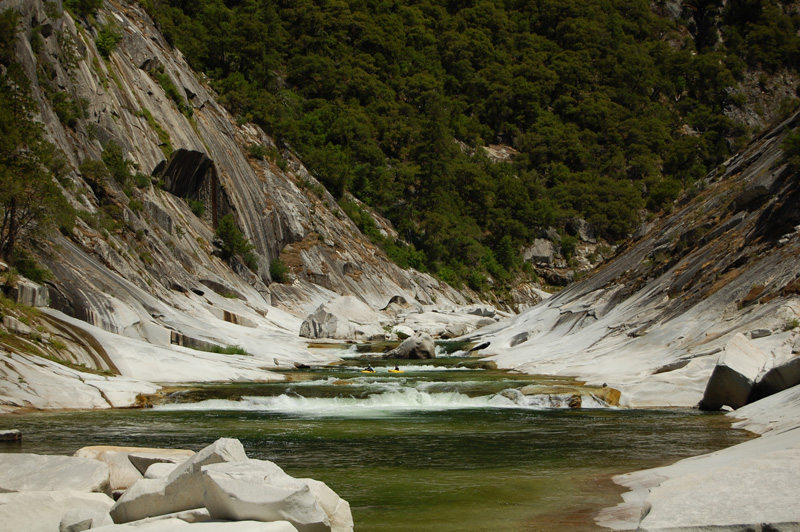 The walls often slope right down into the river - usually they're curved at the bottom like they are in this photo, although they go straight into the water is some spots too.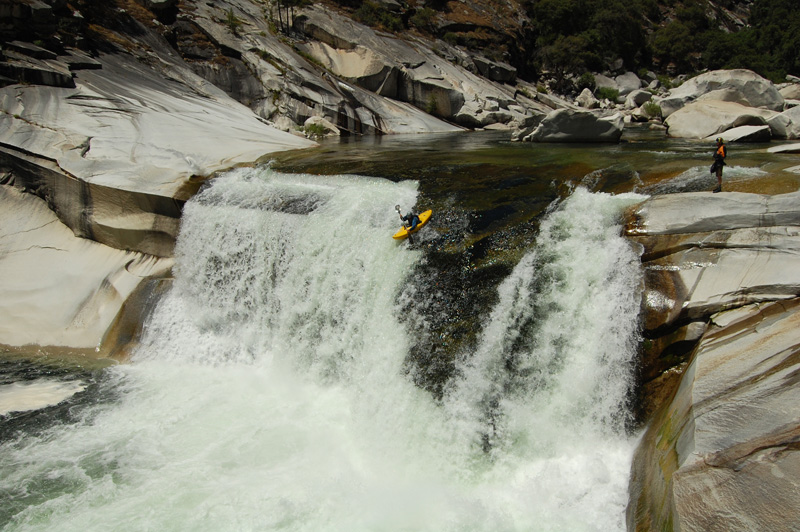 Curtain Falls - this is where the meat of the run really starts.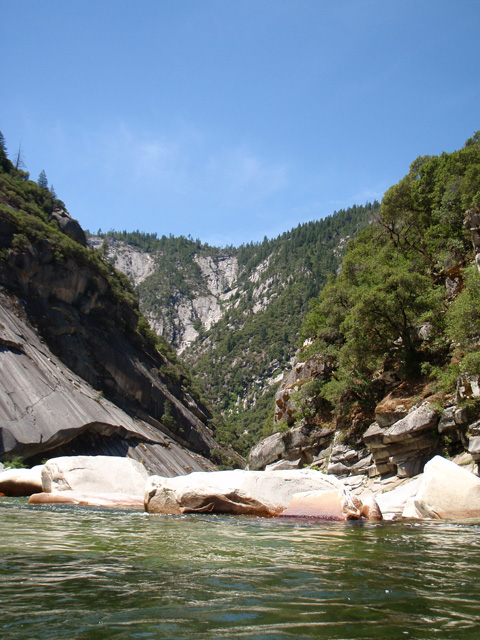 Bald Rock has a mandatory portage around a mess of boulders called Atom Bomb Falls - this is what it looks like from the top. Photo by Bob Butler.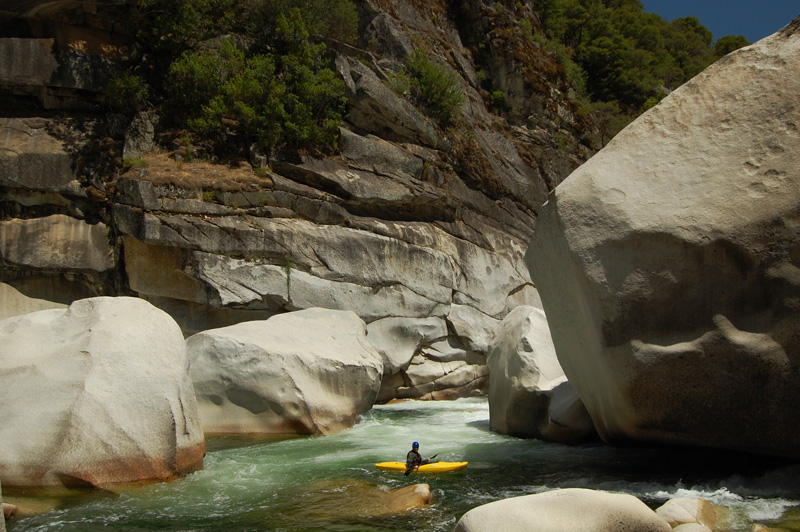 The portage involves a ferry above a sieve, shown here - not a big deal here, but at high water it would probably be terrifying.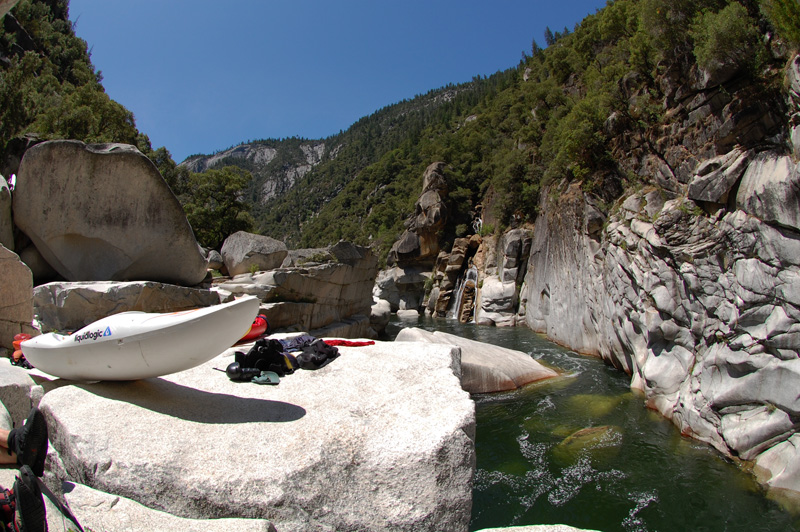 Lunch break at the end of the Atom Bomb portage.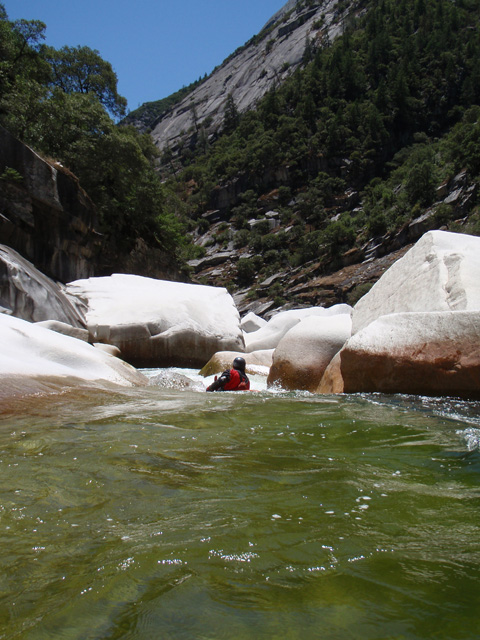 A typical scene from river level. Photo by Bob Butler.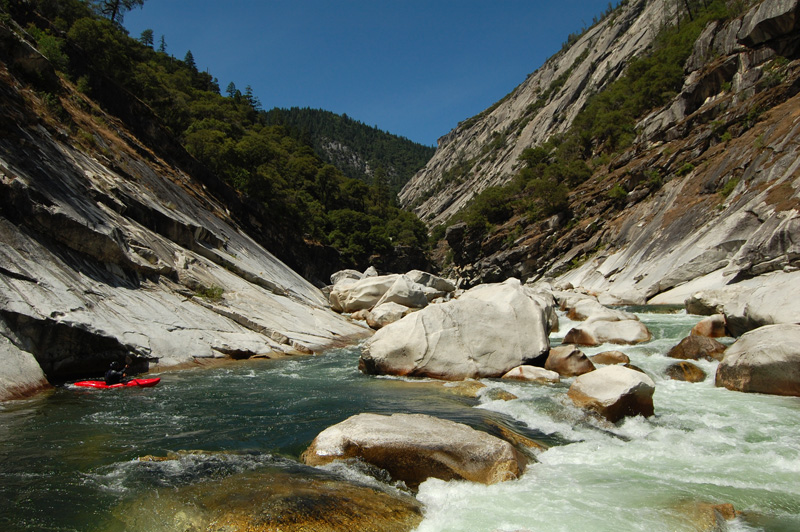 There are some small boulder rapids down there.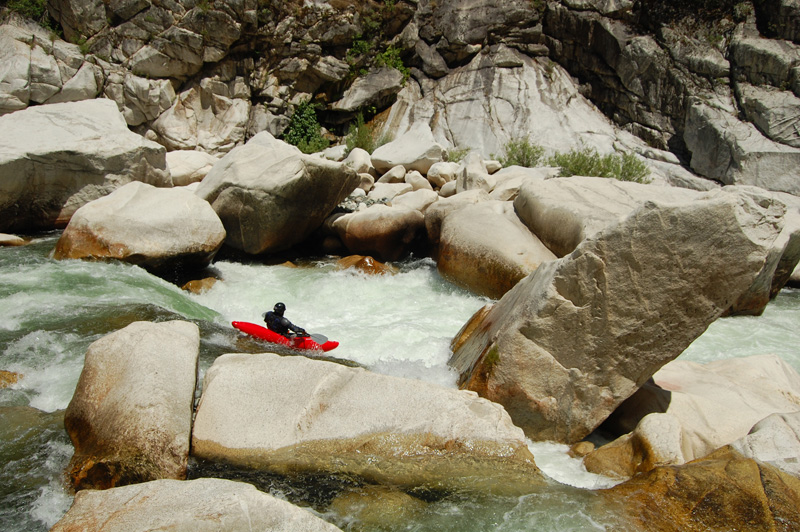 And lots of bigger boulder rapids - this one has a notable undercut on the left.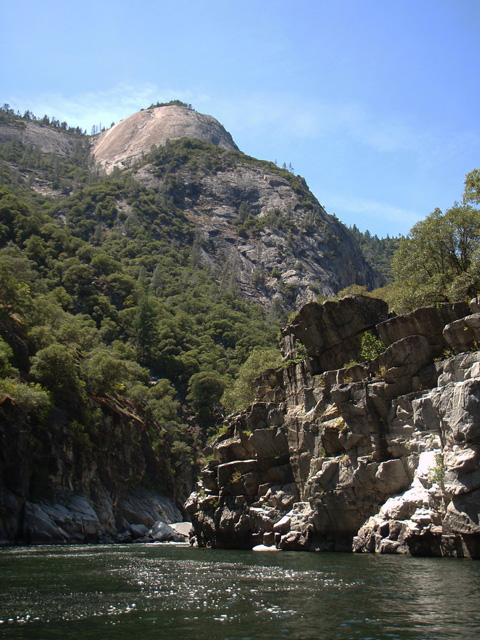 When the hardest part is over, Bald Rock Dome comes into view. This was the first granite dome I got to see in California. Photo by Bob Butler.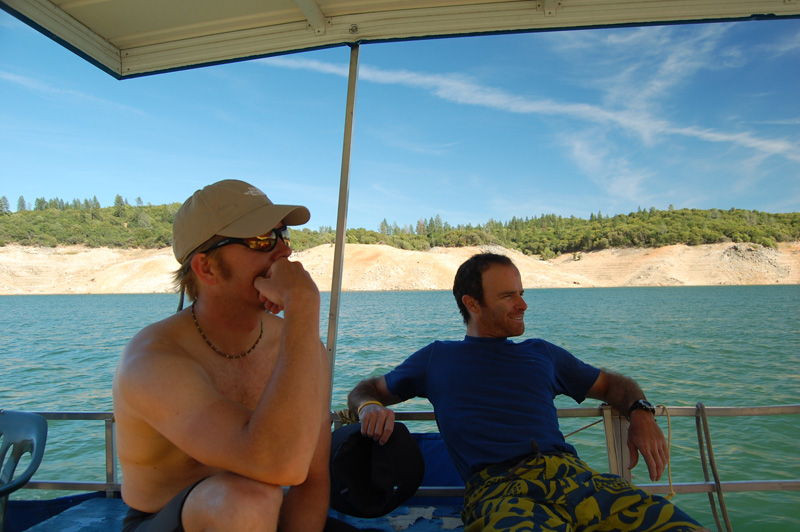 Cruising on the lake back to the cars - Bob looks much happier after a day of whitewater kayaking.