If you remember from the last post about the South Siver, I said we met a bunch of friendly bunch of local boaters. Well of course when we started talking it didn't take long to get on the topic of who was going where to run what, and it was quickly decided that Fantasy Falls on the North Fork of the Mokelumne was going to be the next high Sierra river to come in, if it wasn't in already.
With it being just Bob and I on our trip and knowing that the shuttle on Fantasy Falls was long and convoluted we attempted to drop subtle hints that it was where we were headed next but didn't have much of a plan for shuttle, hoping that someone might be kind enough to help us out - at the end of the day nothing worked out, leaving us with a plan, but no way to act. The only suggestion we got was to put on shuttle be damned and work it out at the lake.
We decided to go to the put in anyways. After resupplying in Lake Tahoe and driving over Ebbets Pass from the back side we arrived at the put in bridge late at night, and a quick check showed the river was at prime flows. I thought it was nice to see the put in, but there was no way we'd ever see the rest of the river.
After getting up bright and early and with a little arm twisting on Bob's part, we decided we were there, it was good so it had to be done. We'd figure out how to get the van once we got to the take out. We packed up extra food just in case we had to live at the reservoir for a while and set off, our team of two.
What followed were 3 days of fantastic boating. To be honest it was a little scary with just the two of us - we ran a lot of big rapids and gorges blue angel style hoping someone would always make it through, and in the end everything we ran worked out smoothly - the only tense moment came when Bob got caught in a horrible depressed, recirculating eddy a drop or two below the boulder-sieve slide. Having selected the "chill" line down the right, I barely clawed through only to see Bob stuck deep - head and shoulder only showing. Bob is an great paddler though and once he got his bearings it only took a few seconds to dig out along the gorge wall to safety.
It was a grand feeling of accomplishment to sort out this run by ourselves with no real beta beyond it's good, and there are gorges. We didn't run everything - but wouldn't even if there were 10 people on the trip - the only downside is we didn't take a lot of boating photos as we were mainly concerned with each others saftey. You'll have to read the river information page of LiquidLore to get the full story of what to expect in there.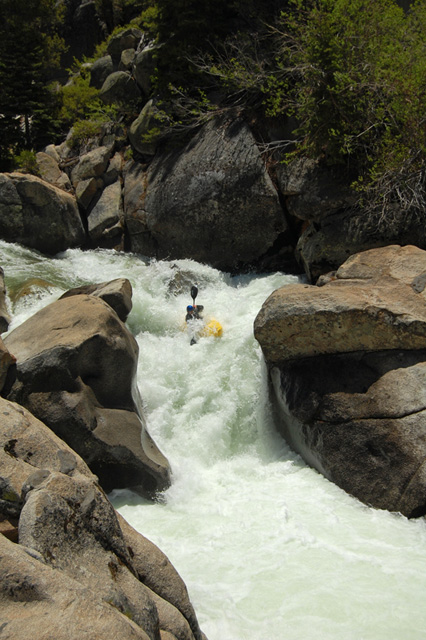 Some good stuff early on day 1.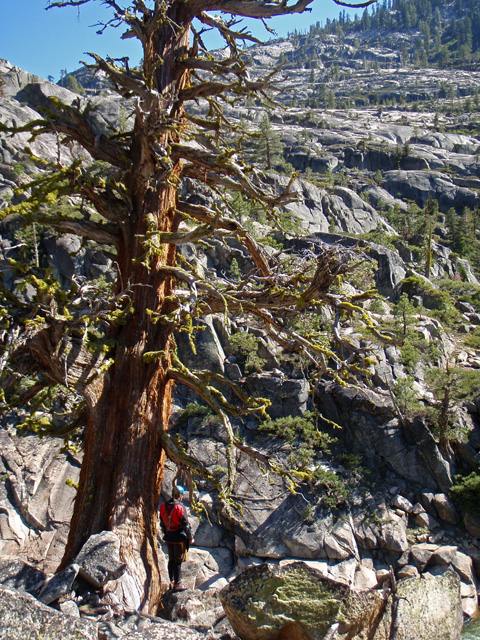 Scouting something. Photo by Bob Butler.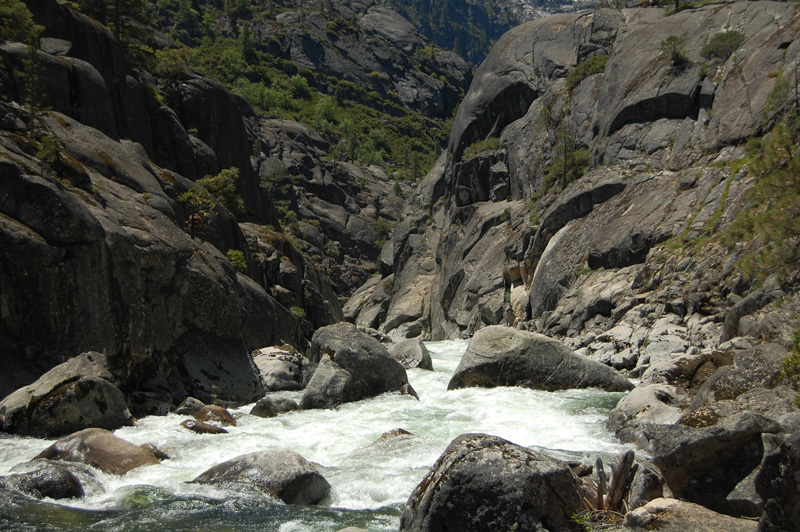 Looking into one of several big gorges.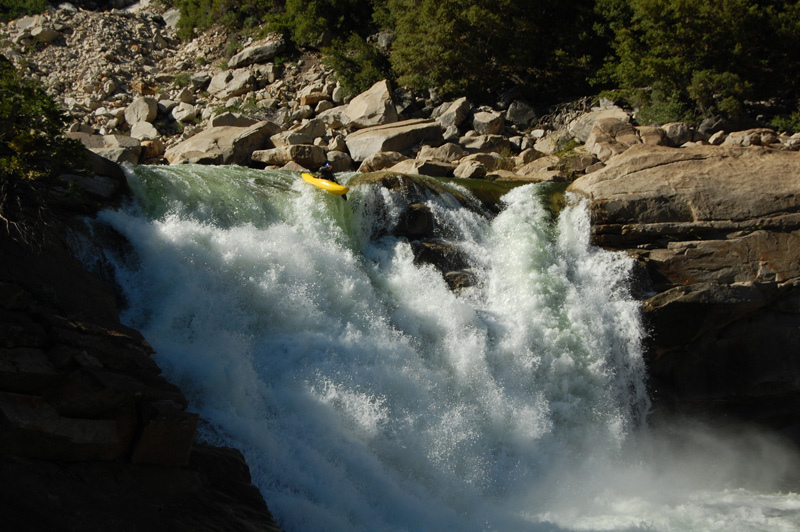 Falls of Fantasy.
So what happened with the shuttle? In the end we got to the take out in the early afternoon of the third day and only had to wait for a few hours before a crew that put on just behind us arrived at the take out as well. After many funny looks after hearing our tale of putting on without a shuttle they were gracious enough to squeeze me in for the trip back to the put in on route 4. A few weeks later after talking to some of the crew we met at South Silver we heard that after I got out of the car everyone had a good laugh when one of the guys in the truck (Alex from California) explained to his friends that he was the one how encouraged us to put on without a shuttle and hope for the best. Thanks for the tip Alex!