Before I get started - essential information:
The first whitewater release is Saturday May 8th, 2010.
Innergex Website - Registration For Releases
Important Details About Ashlu Releases
Transport Canada Approval Document
* * * *
Yes, it's for real - recreational whitewater releases are coming to the Ashlu.
Like it or not, whitewater releases are going to be something kayakers will have to deal with in the future in BC. We should all be thankful that someone - whoever was involved, either government dudes or concerned kayakers - had the foresight to see that releases should be included in the licensing agreement for the Ashlu diversion and that they didn't just roll over and die when it was confirmed the dam was going to be built. I haven't been around long enough to know the details of what went down to make it happen, but I have to say thanks for getting it done.
The funny thing is, nobody knew about these releases. I think it's safe to say that most people wrote the Ashlu off once they started pumping water through the pipe. That's what the hype seemed to suggest.
I wasn't satisfied with that, particularly when considering the system that exists in the US for recreational releases on dammed rivers. So, a few months ago I wanted to learn more about the Ashlu project and I quickly came across an older version of this document. It's the offical approval document that says what the proponent (Ledcor, and now Innergex) had to do to be allowed to build the dam. The immediate thing that stood out to me was the requirement of up to 24 days of recreational whitewater release each year.
Woah. That meant the Ashlu wasn't going to be dewatered 100 % of the time. I'd never heard that was supposed to happen before. Was it because Innergex didn't want anyone to know so they didn't have to release water and therefore not make money? I naievely assumed this was the case. Was it going to mean a fight to get the water to be released?
To make a long story short, the project manager at Innergex immediately got in touch after my inital query and actually seemed stoked that someone had finally asked about what's going on. Turns out they had been working on a system - without consulting the boating community, for better or for worse - to help facilitate releases, including the online booking system linked above. I think they were expecting a nightmare. I think it goes without saying that they would prefer to not have to stop power production to give water, however it was made clear they will honour the release requirement and they desire a positive relationship with the boating community.
Say what you want about the whole thing - I think it's a good thing the releases are happening. It's time to get over the fact there is a dam on the Ashlu - it ain't going anywhere - and get on with enjoying the fact that the river, from a whitewater recreational users perspective, is alive and well (just maybe not as we're used to). They're probably right that there will be more boatable days on the Box than before the dam was built.
There is a prevalent sentiment that any dam on any river is no good. I don't necessarily agree with this stance. There are a lot of passoniate organizations that fight aganist developments - they will win some fights and they will help encourage responsible development - but battles will be lost and more dams are going to be built. What is also needed are people that will put in the effort to ensure that recreational value is fairly maintained when these projects do go ahead, just as there are up to 24 days of release on the Ashlu despite the fact the river is now an operational hydro project. Just some food for thought.
* * * *
What's next? We need to take advantage of these releases to show ensure they don't do away. The contract is not permanent and if they aren't taken advantage of we can lose the 24 days of release. Use will be monitored, so it's no good to sign up and not show up to paddle.
Everything you need to know to get boating is clearly spelled out in the links above. There will be up to 24 days of kayaking depending on the availability of water in the river in May, August and September. You should sign in to ensure water will be released - you even get to vote for a flow. How the specifics of the releases will work is still an unknown. If it doesn't work out this licensce is up for renegotiation to suit our interests just as it can be renegotiated to suit the interests of the power company, making it more important to get out there and take advantage.
The first release is Saturday May 8th 2010. I hope you'll be there!
And finally, a few images to remind you just how great the Ashlu is, even before you run any rapids..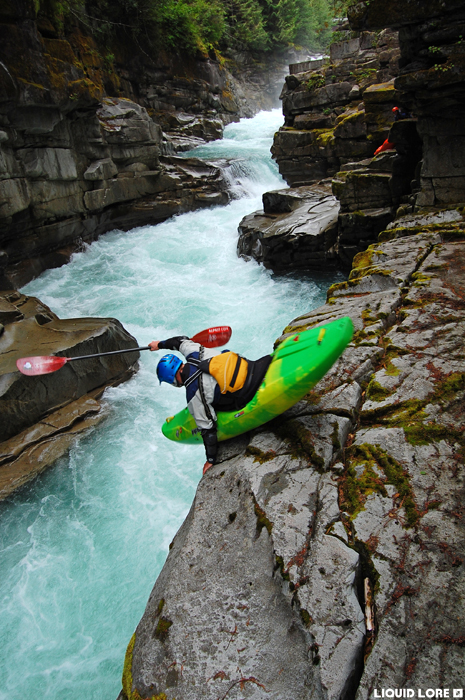 Yeah, it's nice there.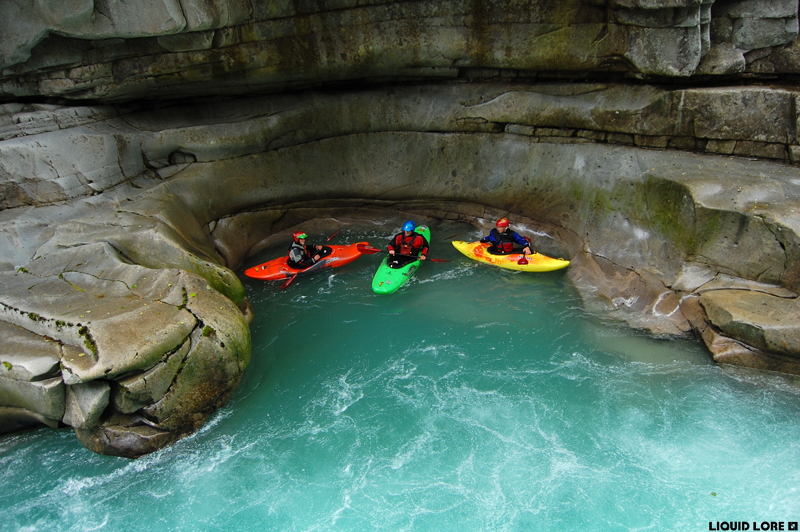 The awesome eddy before the first corner rapid in Commitment Canyon. Is there any reason not to come? Photos by Toni Stanojevic.